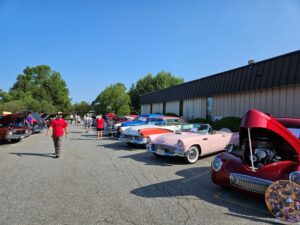 On Sunday September 3rd the Bangor Lodge held its second annual Maine Childrens Cancer Program Car Show.
The weather could not have been better for a car show. Over 100 Cars, trucks and motorcycles from around the state had participated. Many trophies were provided to the winners for Best in Show, Kids Choice, People's Choice and many more.
State President Sandi and First Man Dave were on hand to witness the event and congratulate the winners with their trophies. It was a great showing by the local community with over 350 spectators strolling through the gates to support the cause. In all over $8,000.00 dollars was raised from sponsor donations, raffles, meals and more.
Thanks to the 38 Lodge volunteers who stepped up and ensured the event was truly a great success. For more information see the item at https://www.wabi.tv/2023/09/03/bangor-elks-lodge-hosts-annual-car-show-support-good-cause/