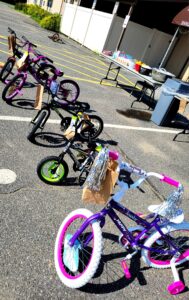 The Augusta Elks Lodge #964 recently held a bike rodeo for children in kindergarten to 5th grade at their Lodge. The Lodge partnered with the Bike Coalition of Maine who hold these community events throughout the state. WABI television in Bangor covered the event and posted the following news segment on their website. Bike Safety Rodeo comes to Augusta (wabi.tv)
The Augusta Elks Lodge provided not only the location of the event in their parking lot, but also food for the participants, bicycle helmet and bicycle raffles, and drug awareness information for parents. The children who participated had a great time and learned how to handle their bicycles in a safe manner.
The purpose of the bike rodeo is to have fun and learn safe bicycle-driving on a mock-traffic course! We'll the coalition will bring the course to your Lodge so students can practice bike-handling skills and basic rules of the road on their pedal or balance bikes. If your Lodge wishes to hold a bicycle rodeo for your Youth Activities program, you can contact the Bike Coalition of Maine by following the link on this page: Youth Education – Bicycle Coalition of Maine (bikemaine.org)
This is an easy way to become more involved and visible in your community.