Maine Veterans in Need is an organization made up of Elks, Veterans of Foreign Wars, American Legion, Disabled American Veterans, Maine Veterans Bureau and other organizations joined together to identify what veterans needs are unmet, and then work to raise funds to fill those needs.
MVIN is a 501c3 organization funded mainly by their Winter Classic Softball Tournament.  Operated by Nancy and Nicolas Hamlin this tournament is the main fndraising project for the organization, which has raised over $37,000 this year so far, and continues to work with other service organizations and local businesses for additional funs to meet the ever increasing need.
On June 21st, 2023, Governor Janet Mills recognized the Hamlins, and their team, for their fundraising accomplishments for Veterans in Need.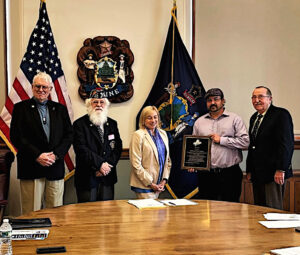 Shown in the photo from L to  R: David Hassen (Maine Elks), James Bachelor (VFW), Governor Janet Mills, Nicholas Hamlin (American Legion), David Patch (American Legion)