Elks National Veterans Service Commission
Robert Kittredge, P.E.R.
Voluntary Service Representative
Augusta Lodge 964
873 Pond Rd. Sidney Maine 04330
207 242 6075    Bob@bbembmaine.info
March 6, 2023
Good afternoon,
It has come to my attention that many of you have funds to donate for the purchase of a Vector Sensory awareness Machine at Augusta Maine Veterans Home, and there is some confusion about where to send the money. Please make and send checks to the Maine Veterans Home AND most important in the Memo please write For Vector Sensory Machine
Maine Veterans Home
35 Heroes Way
Augusta, ME 04330
Attn:   Life Enrichment
Thank you, again, for your contribution and support of Maine Veterans and their families.
Sincerely,
Robert Kittredge, PER
Voluntary Service Representative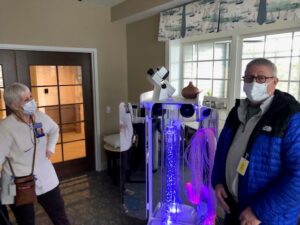 Life Enrichment Coordinator Debbie Sirois and
VAVS Representative Bob Kittredge with the new
Vector Sensory Awareness Machine.