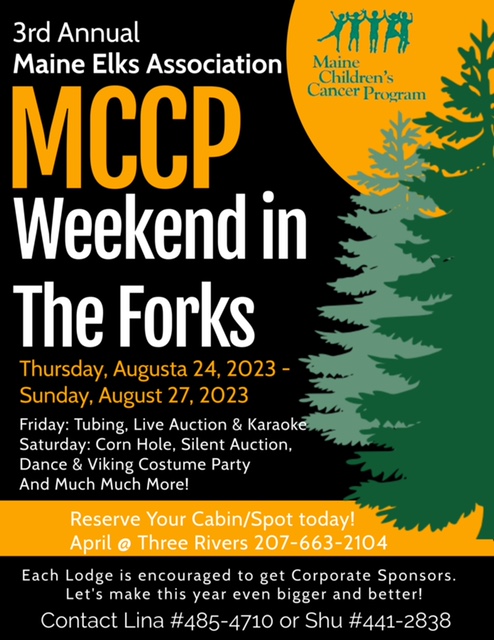 The 3rd Annual MCCP Weekend at the Forks planning is coming together, and information on the event and registration is now available here: MCCP Weekend at the Forks Registration
The event runs from August 24-27, 2023 at Three Rivers. You can book your cabin, campsite, bunkhouse, or a room at the Inn by calling 207-663-2014 or e-mailing april@threeriversfun.com
Lots of fun is in store for those who attend including Barbeques, Cornhole, Cribbage, Karaoke, Dancing, Bonfires, Hiking, Jenga, Lawn Games, Raffles, Silent Auctions, and so much more.
Last year, the event raised $45,500 dollars for the Maine Children's Cancer Program.
Even if you are unable to attend, you can still support the event by submitting the registration form and fee of $25.00 to your Lodge Secretary.
For more information on the event, contact Lina Michaud at 207-484-4710 or Mike "Shu" Michaud at 207-441-2838, or e-mail Lina at slaale@hotmail.com