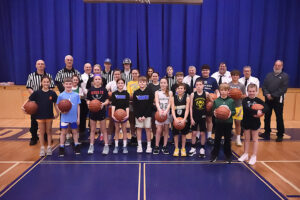 Begun with the local lodge events in December, the BPOE's 51st Hoop Shoot  season continues throughout our nation.  On Sunday, January 29th, eighteen young athletes and their families gathered at the Bath Middle School to continue the program by competing at the Maine Elks' Association's State Hoop Shoot, hosted by the officers and members of the Bath Elks lodge 934.
3 boys and 3 girls from each Maine district competed, segregated by gender and age into groups of 8-9 years old, 10-11 and 12-13.
Dignitaries were on hand, including the MEA State President Al Ingraham and First Lady Stephanie and BPOE Region 6 Director Mike Stewart and his wife Karen, from Putnam CT lodge 574.
First place Boy and Girl for each age group will be advancing to compete at the BPOE's Region Six competition in the gymnasium on the USM-Gorham campus the weekend of March 10, 11 & 12.  Advancing girls are Elliana Dyer (Skowhegan-Madison), Audrey Gould (Bath) and Jaelyn Lydick (Biddeford-Saco) and the boys are Landon Magnusson (Augusta), Mason Thayer (Bangor) and Evan Haskell (Ellsworth).
Helping in the gymnasium were Gage Suitter, Edie McKay, Camdyn Johnson and Calin Gould from Morse High School Sports to retrieve and return the balls, and calling the shots as Referees were Elks Joe Winchel from Portland #188 and Danny Daigle from Brunswick #2043.  Scorekeepers for the day were Pete Hudson, Warren Hewes, Rod Bauer, Dewey Fraser, Chris Wallace and Fred Mitchell.
Photos of the State Shoot were captured by the MEA PR Director, and can be accessed Here