On Christmas Day, the Presque Isle Elks, Lodge #1954 hosted its annual Elks Family Christmas Dinner for anyone who would otherwise be celebrating Christmas alone.
     Dinner began with the Northeastland Hotel's renowned tomato bisque soup. A choice of country baked ham or roast turkey and gravy was offered along with Aroostook mashed potatoes, baked squash and a vegetable medley. The Governor's wonderful dinner rolls were served. Dessert was a choice from a wide selection of pies, including Governor's popular chocolate, coconut, and banana cream pies, as well as chocolate peanut butter and Boston cream pies, in addition to traditional apple, pumpkin, and assorted berry pies.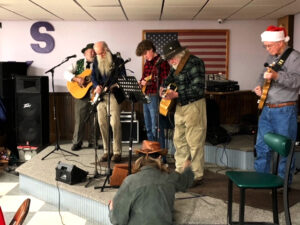 Everyone attending the sit-down dinner at the Elks Lodge was entertained by the "Soggybottom Boyz", comprised of Wendell Hudson, Dale Hudson, James "Sheldon" Wright, Leland Clark,, and Agis Clark. Prior to departing, all received a Christmas stocking stuffed with assorted goodies. 
     In addition to serving dinner to those at the Elks Lodge, the Presque Isle Elks delivered over two hundred meals to individuals requesting delivered meals, Presque Isle Public Safety workers, residents of the Aroostook Homeless Shelter, and residents at Mapletree Estates, who had been without electrical power for nearly two days.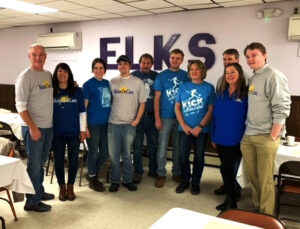 Over thirty volunteers gave up several hours of their Christmas day in order to cook, serve, and cleanup after the noontime meal, as well as to transport guests and to deliver meals outside the Lodge.  Ten members of the family of the late Cassidy Charette again volunteered at the Elks Family Christmas Dinner as part of the work of the Shine on Cass Foundation, in memory of Cassidy Charette, who died at the age of 17 in a tragic hayride accident. Shown above at the Presque Isle Elks Lodge on Christmas Day, from left to right, Mark Wilcox, Sharon Parent, Alley Wilcox, Karson Wilcox, David Bernier, Ryan Bernier, Angela Bernier, and Randy Charette, Monica Charette and Colby Charette, parents and brother of Cassidy. 
     The family of Cassidy and the Shine on Cass Foundation, through their example, seek to inspire others and promote the importance of volunteerism in tribute to Cassidy, whose passion was volunteering.
     Dana Dickinson, chairman of the Elks' annual Family Christmas Dinner stated, "It was truly a Christmas blessing to have been able to help so many people in a meaningful way this Christmas. Elks care and Elks Share."