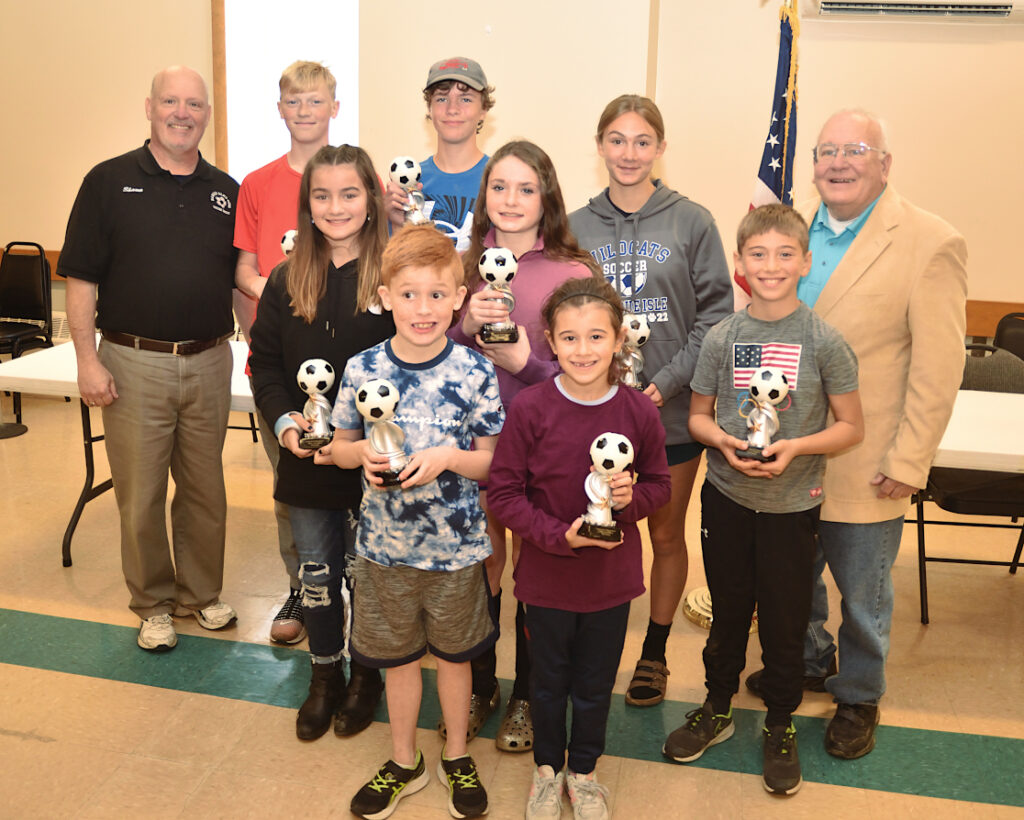 On a cool morning on Sunday, October 16th, the Maine Elks Association conducted their State championship Soccer Shoot contest at the John Bapst Practice field on Mount Hope Avenue in Bangor.
Intended to help keep our youth focused and away from undesirable activities, the Elks' Soccer Shoot program consists of two different contests that test different level skills at different ages. Contestants are grouped by gender and age. Kids competes in groups of 7 years old and younger, eight to nine, ten to eleven and twelve to thirteen.
Hosted by the members of Bangor Elks Lodge #244, the state contest welcomed nineteen kids, ages 7 to 13, and their families from across the state. State Soccer Shoot Director Shawn Stacey coordinates the program in Maine and assembled the team to conduct this event with the help of several members of the Bangor lodge Soccer Shoot committee and the Bangor High School class of '23. Final standings were announced, and trophies presented after the spaghetti lunch at the Elks lodge.
Maine's 1st place boy and girl winners are:
Under 8 – Emma H (Rockland) and Jack R (Waterville),
Under 10 – Bella S (Sanford) and Drake L (Houlton)
Under 12 – Rihanna P (Sanford) and Brayden F (Rockland)
Under 14 – Lucy C (Presque Isle) and Reid R (Rockland).
The first-place shooters will advance next to the Area 1 Soccer Shoot to be held on November 5th at the Augusta Tennis Club in Augusta. At that venue, they will face the best shooters for their age and gender group from NH, VT, MA, CT, RI, and NY. Scores for the top shooters in that contest will be forwarded to the National Soccer Shoot Coordinator, with the highest scores named as National Soccer Shoot Champions. Last year, Maine had its first National Champion in the Soccer Shoot. Emily C., sponsored by the Presque Isle Elks Lodge #1954 was the top shooter in the country in the U-12 girls division. She was presented with her National Champion's Trophy at the MEA State Convention in May.
The Benevolent and Protective Order of Elks inculcate the principles of Charity, Justice, Brotherly Love and Fidelity; to recognize a belief in God; to promote the welfare and enhance the happiness of its Members; to quicken the spirit of American patriotism; to cultivate good fellowship; to perpetuate itself as a fraternal organization, and to provide for its government, the Benevolent and Protective Order of Elks of the United States of America will serve the people and communities through benevolent programs, demonstrating that Elks Care and Elks Share.
The Maine Elks Association coordinates the fraternal efforts of twenty lodges ranging from York Lodge # 2788 in the Coastal District to the Presque Isle lodge # 1954 in the Northern District. To find out more about this and other programs in your area go to www.maineelks.org or www.elks.org.
Photos from the event can be found here: State Soccer Shoot | Flickr