On Tuesday, August 9th the Sanford Elks participated again this year in Sanford's National Night Out event.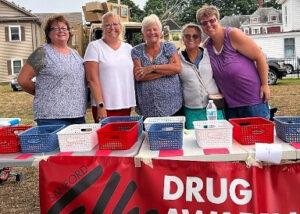 The lodge Drug Awareness Team distributed more than 150 bags full of school supplies to the children in attendance. This year we provided a few activities
for attendees, including a cornhole toss game for all ages.  We also had on hand impairment goggles for the older children to attempt tossing the bean bags "impaired".
A free raffle for bicycles was also held, with 16 children going home with new bikes!!  The smiles on their faces were priceless.
Thank you to all the supporters and volunteers who made the evening a success for the children!