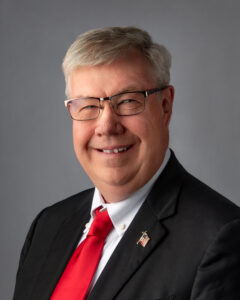 Wayne Cotterly was introduced to the Benevolent & Protective Order of Elks through his father-in-law, who was a long-time member of the Wakefield, Massachusetts Elks Lodge #1276. In 1996, his wife Kathleen became a member of that Lodge. In 1998, she encouraged him to join a local Lodge. She contacted the Lewiston Elks Lodge #371 and obtained an application to join. She would have proposed him for membership, but the rules at the time only allowed current members of the Lodge to propose new members.
He became a member of the Lewiston Elks Lodge #371 in March 1998. He immediately became active in the Lodge, becoming an officer and committeeman, advancing through the chairs to become Exalted Ruler in 2001-2002. He continued to serve the Lodge for several years as Secretary of that Lodge.
In 2002, he became involved in competition ritual for the Maine Elks Association PER Ritual Team, earning many awards in the Area 1 Interstate-Relations Committee PER and Roulette Ritual Contests. Because of his involvement in competition ritual, he was asked to serve as the ritualistic coach for the Augusta Elks Lodge #964. He served in that position for six years. He later joined the Augusta Elks Lodge in 2014. Since that time, he has supported many of the Lodge events and activities, the PER Association, as a photographer, and currently serves as the Lodge's ritualistic chairman.
He has served the Maine Elks Association as its Public Relations Director from 2003-2009, Lodge Activities Director from 2003-2009, Youthfest Director from 2002-2007, District Chairman for the Veterans/National Service Committee from 2005-2006, Maine Children's Cancer Program Committee from 2003-2012, and Maine Elks State Convention Committee from 2006-2021. He also held the office of State Trustee from 2005-2006, 2nd Vice-President 2008-2009, 1st Vice-President 2009-2010, President-Elect 2010-2011, and State President 2011-2012.
As stated earlier, his involvement in competition ritual began in 2002, and since that time he has supported ritualistic excellence in the Maine Elks Association, serving as a competition computer, word accuracy, and floor judge for the State Ritualistic Committee.
He also volunteers his time to serve as an advisor on the Past State President's Association and has done so since 2012.
He has received numerous awards from the Maine Elks Association including Exalted Ruler of the Year for the Central District in 2001-2002, the State Elk of the Year in 2003-2004, State Ritualistic Coach of the Year and State Veteran Volunteer of the Year in 2005, and State Committee Chairman of the Year in 2010-2011.
He has served the Grand Lodge as the District Deputy for the Maine Central District in 2006-2007 and again in 2014-2015, as a Special Representative since 2015 to 2022, and as a member of the Grand Lodge Activities Committee from 2018-2022, serving as its Chairman in 2020-2022. He was elected to the Board of Grand Trustees in July 2022 where he will serve a four-year term.
He received his Bachelor of Science Degree in Aviation Management from Daniel Webster College in 1983, and subsequently worked in the aviation industry. He served as an airline captain until 1991, and as the volunteer Emergency Management Director for the Town of Poland, Maine for 25 years.
His volunteer work extends beyond the Elks into his community. Throughout the years, he has volunteered hundreds of hours of his time in support of the youth of his community through the Poland Youth League, Boy Scouts of America, International Order of Rainbow for Girls, and DeMolay for Boys as a coach and advisor.
He has also provided over 800 hours of voluntary service to the Togus VA Medical Center in support of our veterans. He has also volunteered his time to serve as a cooperative weather observer for the National Weather Service, recording daily climatological data. In 2021, he was nationally recognized for his outstanding contributions to the field of meteorological observations by the National Weather Service when he received the prestigious John Campanius Holm Award.
He has also voluntarily served his community as a Selectman, Rescue Department Chief, EMT-I, and firefighter.
Throughout the years, Wayne Cotterly has served the Order and his community with distinction, his unwavering commitment continues to serve his Lodge, the State Association, and the Grand Lodge.