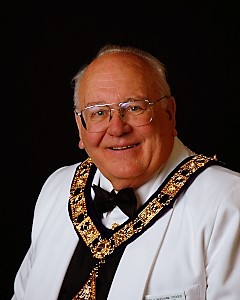 Al Ingraham
MEA State President
2022-2023
State President's Message
The President of the Maine Elks Association for 2022 to 2023 is Albert Ingraham, PER from the Elks Lodge #2788 in Wells, ME.
Youngest of three, Al was born in Portland, ME on July 10,1949.  He grew up in South Portland and spent his youth as a student in their school system, graduating in the SPHS class of 1968.  Al continued his education toward an Associates in Electronics from SMVTI (now SMCC) in 1970.
He enlisted in the Navy in 1971 and attended Recruit Training at RTC Great Lakes in Illinois.  During his years in the Navy Al served as an Avionics Technician at Cecil Field and at Naval Air Station Jacksonville, FL.  Al also spent some time at sea, serving aboard the aircraft carrier USS Franklin D. Roosevelt out of Mayport, FL.  He attained the grade of Petty Officer First Class when he separated from the Navy.
After his discharge Al enlisted again, this time joining the Maine Army National Guard while returning to school at University of Southern Maine.  Al graduated from USM with a double major (Computer Science and Math) in 1979.
Meanwhile for his National Guard duties, on drill weekends he worked with the 133rd Engineering Battalion.  His very first assignment upon reporting for duty was to stand guard at the entrance to the training area, but he hadn't been issued a uniform yet so he must have been quite a sight standing sentry duty in a pullover sweater and jeans. Eventually he received his army kit, and he was properly outfitted for the next drill weekend!
The ANG sent him to Fort Belvoir, VA where he earned his Civil Engineering Degree with the Army Corps of Engineers.   Returning to Maine he completed Officer Candidate School at Camp Keyes in Augusta.
Al enlisted in the Guard as a Staff Sergeant (E-6) and eventually retired at the rank of Captain.  Through his service Al's worked at all the armories the 133rd was responsible for in Maine.  He has many fond memories, but four specific occasions he is particularly fond of:
–  In 1987 his unit was sent to Wilton, ME to assist with Search & Rescue of victims of a recent flooding, and assist with some of the clean-up and repair afterward.
–  He was also designated to present a check from his unit to the Maine Special Olympics during an event held at the Blaine House in Augusta and his children were especially excited to not only be in the Governor's Mansion, but to be able to meet Governor "Jock" McKernan as well. (Al refers enquiries for more details on this one to wife Stephanie)
–  His unit once was deployed to Germany to assist in constructing air fields, and as a civil engineer Al describes the feeling was like a kid playing with his trucks!
–  Al's final big fond memory was having the opportunity to meet First Lady Nancy Reagan during an assignment.
In between all the above Al worked at Fairchild Semiconductor for many years.  While there he designed integrated circuits and did equipment modifications on the "sputters" (the sputters put the interconnecting metal on the IC).  During this time he was also awarded two U.S. patents: one for equipment, and one for a process.
During these years, as a sideline Stephanie and Al started their company Amusement Vending, which they still run today – vending and selling juke boxes, pinball machines, video games, pool tables and driving games just to name a few.
Speaking of Stephanie, Al met her in high school.  They married in 1972, and just celebrated their 50th wedding anniversary shortly before the convention.
Al and Stephanie have three grown daughters.  Desiree and her husband Kevin have been married 20 years, Aleighta and her wife Carin have been married 19 years and Heather and her husband Rodney have been married 18 years.  Grandson Bruce has been married for ten years to his wife Brittni.  All together they have blessed the Ingraham clan with five granddaughters, three grandsons and two great granddaughters and third "great-grand" is due on September 8. Christmas is getting expensive!
Al started his Elks journey at the Wells Lodge #2738 on June 6th, 2000.  His first officer position held was as Chaplain.  From there it was up, up, up!  He worked his way through the lodge chairs, both learning the Fraternal functions of the order as well as the business of the lodge.  Al has held the Exalted Ruler position seven times, starting with the Fraternal Year 2004-2006, and has also served his lodge as Treasurer and ENF chair, which he's also done for the Maine Elks Association for several years now.  In 2005 Al was recognized with the Vice Presidents Outstanding Exalted Ruler of the Year award for the Coastal District.  He was District Deputy for Maine Coastal for 2010-11, and has recently passed the test and qualified as a Word Judge for ritual competitions.
In 2019 Al was elected to Second Vice President for the state association, and he's quite proud and honored to now have been sworn in as President of the Maine Elks Association for the Fraternal Year 2022-23.
In his "spare time" Al is a Life Member and past finance officer for AMVETS post 25 in Portland as well as an active member of American Legion post 56 in York.
.