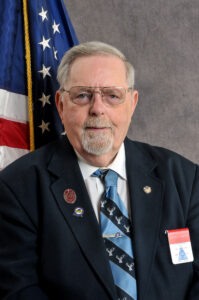 ROBERT E. DRISKO
Robert E. (Bob)  Drisko was born in Brunswick Maine and has resided in Chelsea, Maine for the past 32 years. The son of the late Harry L. and the late Beulah M. Drisko. Bob has one daughter, Cathy Jean McKay, one son, Dean Robert Drisko and one brother, Richard L. Drisko, and five Grandsons. Bob graduated with honors from Gardiner Maine High School in 1958. In his senior year he was captain of the Football Team. He graduated from DeVry Technical Institute in Chicago, Ill. in 1962 with a degree in Electronic Controls for Automation and He graduated from the University of Maine in Orono in 1972 where he received his bachelor's degree in Electrical Engineering. 
 Bob was employed by Vocaline Company of America in Waldoboro, Maine while researching Anti-Submarine Warfare programs with Top Secret Clearance in conjunction with the US Navy for 4 years, In 1972 He joined Central Maine Power Company (CMP) in Augusta, Maine in the position of Transmission and Distribution Engineer, subsequently being assigned as a District Manager in Dover Foxcroft Maine, followed by becoming Company-wide Engineering and Maintenance programs supervisor. Bob was the founder and Manager of On Target Underground Locating and Maintenance Company. He also served as Town Manager for 6 years for the Town of Chelsea, Maine. 
 Bob was initiated into the Gardiner Maine Lodge of Elks 1293 in September 1989, where he served as Exalted Ruler in 1997-1998. In June of 1999, Bob transferred to Augusta Maine Lodge of Elks 964. and served on numerous committees including the House Committee, Auditing and Accounting Committee, Government Relations, Lodge Youthfest Chairman, Business and Membership Chairman, Fraternal Committee Chairman, and eight years as Lodge Secretary. Bob also participated in Ritual Competitions for the Lodge, and in Area 1 (New England & New York) earning several awards.  In 2012 he was awarded Honorary Life membership and remains active in the lodge as an advisor. 
At the State Level he has served as State President 2008-2009, Chairman State Government Relations Committee 2005-2020, Chairman Accident Prevention Committee 2003-2005 as well as several other State Committees. In 2010-2011 Bob was awarded Maine Elks Association "Elk of the Year." 
At the Grand Lodge level, he served as District Deputy Grand Exalted Ruler of the Maine Elks Central District 2008-2010, and again in 2013-2014. Area 1 Grand Lodge   Fraternal Committee, 2013-2017 where he served as the American Essay Contest administrator. Appointed to serve as Grand Lodge Tiler 2017-2018. 
Bob and his wife Priscilla (Myra)) have been married for 34 years. Priscilla joined Gardiner Lodge of Elks #1293 in 1998 and transferred to Augusta Lodge of Elks 964 in 1999. Priscilla was awarded the Maine Elks Association "Spouse of the Year in 2005-2006. 
Bob was previously assigned as Special Representative to Oversee Lodge operations at Gardiner Lodge of Elks 1293 and former Lewiston Lodge of Elks 371. He also obtained his Private Pilot license and his Coast Guard license to operate up to 100-ton vessels along with a Coast Guard towing endorsement . He was also a certified Football and Basketball Official for the State of Maine.