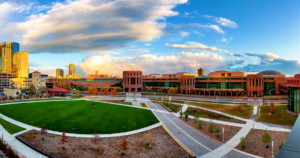 Grand Lodge Convention Central
 July 2-5, 2023
The Elks Grand Lodge Convention will take place from July 2-July 5, 2023 at the Minneapolis Convention Center located at 1301 2nd Ave S, Minneapolis, MN 55403.
This will be the 158th Grand Lodge Session, where Elk Members from across the country will meet, pass changes to the laws of the Order, and in general have a great time learning about Elkdom.
Many Maine Elks Association members will be traveling to the event, which is required for all Exalted Ruler's and District Deputy Designates.
This year will be special for the Maine Elks Association as Bruce Hidley of New York is serving as the Grand Exalted Ruler. Upon retiring as the national president, he will serve as a Sponsor in Area 1.
Also, the Maine Elks will be competing in the National Ritual Competition. We will find out who will represent Maine when the State Ritual Contest is held in February 2023.
If your a member, and you've never been to the Elks Grand Lodge Convention, it's a great experience, and you will meet many great people from across the country.
Information on the New England Elks Tour which handles the hotel arrangements has provided information which can be found by clicking the button below.
It is recommended that you make your plans early, as room availability is limited.
The Maine Elks will be staying at the Millenium Minneapolis  located at 1313 Nicollet Mall in Minneapolis, Minnesota. 
Situated along the tree-lined streets of Nicollet Mall, Millennium Minneapolis is the closest full-service hotel near the Minneapolis Convention Center and is also moments away from the city's cultural districts. There are 321 guest rooms and suites, featuring stunning views, combine a distinctive contemporary elegance with the service and amenities with pool to create an indulgent experience to be remembered.
Reservations will only be made through the New England Elks Tour. Click on the button below for a reservation form.
Grand Lodge Convention Schedule
The Grand Lodge Convention Schedule has not yet been released yet, but we will be providing more information as it becomes available on elks.org.
Registration will once again available online through the Elks.org website. All Elk members attending the convention will be required to register. If you register online, the cost will be less than if you register at the event. The amount has not yet been announced.
Convention Registration opens in April