Prior to opening the December 8th lodge meeting Bath ER Craig Johnson and the lodge officers took the opportunity to distribute some of the funds they'd been raising since April, into their local community.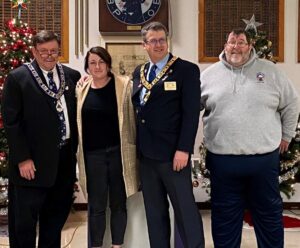 ER Johnson procured a grant from the Elks National Foundation to assist students and teachers after fire destroyed Bath's Dike Newell elementary school.  Katie Roulliard Walker, school Secretary at Dike Newell, received the $2,500 check from ER Craig and Leading Knight Mark Westrum.  Katie has a long history with our Lodge.  As a young child she served as one of the elves at our Children's Christmas parties and her father, Jimmy Roulliard, was a great Elk member who left us too soon.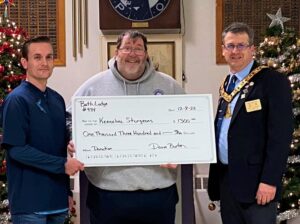 Through the fundraising efforts of Chairman Ronald Nygaard and his Youth Activities team, the lodge was able to present the Kennebec Sturgeons young mens baseball team, of the Pine Tree Baseball League, a $1,300 donation to Team Manager Tyler Rose for a fence at Varnum Field.  The baseball diamond has been without a fence since that area was upgraded several years ago.  It is a very important field for the children in the area, also benefitting our Little League and Babe Ruth League as well as the Sturgeons.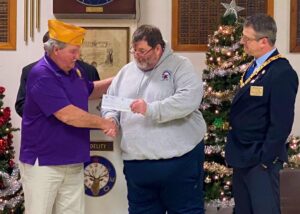 Youth Activities funds were also available to put the American Legion over the top in their fundraising effort to replace the scoreboard at Legion Field, directly across the street from the American Legion Post.  The Bath Elks logo will be prominently displayed.  Past Sons of the American Legion Commander Donald Allisot was on board to accept our $2,000 donation.
It was a heartwarming to precede a lodge meeting by giving back to our community, and it was one of the best meetings that we've had in years.  Thanks to you ALL our members for your continued hard work and helping our lodge be as generous and giving as we are!