MEA State President, Al Ingraham, is pleased to announce the appointment of Vassie J. Fowler as the new Chair of the MEA Convention Committee. Sister Fowler is the Exalted Ruler of Biddeford-Saco Lodge # 1597, serving in that capacity for the second year in a row. Vassie is also serving as President Ingraham's Sgt-at-Arms.
Vassie is an accomplished professional catering and food service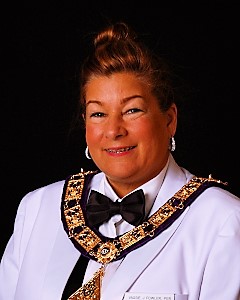 manager with over twenty years of experience in developing customer relationships, supervising food services and sales; generating new business, with a strong commitment and ties to the community. She is also knowledgeable in areas of contract negotiation, menu planning, pricing, as well as team building and development.
She is currently working as the Assistant Director of Seeds of Hope Neighborhood Center, a charitable organization, in Biddeford. The Center's mission is to partner with local communities and neighbors to find solutions to poverty and promote personal growth of its clients.
President Ingraham is pleased and excited about having Vassie taking on this new role and responsibility. "I feel that Vassie's experience and enthusiasm will allow her to bring innovative ideas to the Chairmanship and build on the splendid work of the previous chair, Kathleen Cotterly."
Vassie is looking forward to this new challenge. "My vision is to build a talented team that will provide an opportunity for more members to be involved in the overall convention operation. I will need the assistance of a lot of our members to make my plans work."
If you are interested in becoming a member of the Convention Team, you may contact Vassie at, vassiefowler@yahoo.com, or by calling her at 207-408-2274