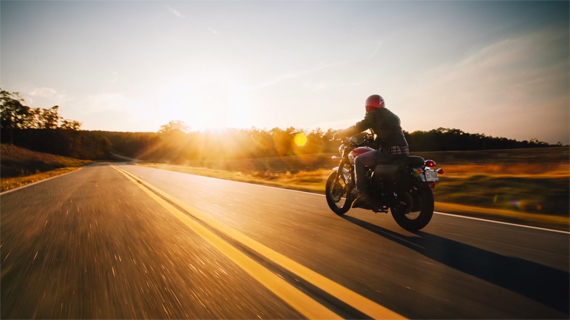 For years, motorcycle clubs and associations have been a great way to enjoy the fun and excitement of riding motorcycles, and many of these groups hold motorcycle runs that raise a substantial amount of money for Charity. Here at the Maine Elks Association, we have our own group, called the Maine Elks Motorcycle Riders (MEMR) that organizes and runs motorcycle events like the Owie Box Ride for the Maine Children's Cancer Program. MEMR is currently under the direction of Past Exalted Ruler (and current ER) Melinda Voisine of the Skowhegan-Madison Elks Lodge.
Recently, many Elk Lodges across the country have been forming local Lodge motorcycle groups. The groups are formed at each Lodge, and after making a bylaw change, the Lodge can officially recognize the motorcycle group that uses the moniker "Elk Riders." The Elk Riders have been growing in popularity, and the Waterville Elks Lodge #905 will become the first Elk Riders group in the State of Maine.
According to President Rodney H. Richards, President of the Elk Riders of Waterville Lodge #905, the group has partnered with Massachusetts Elks member Tim Landry of the Gardner Lodge #1426 who walked them through the steps of creating the group in accordance with the laws of the Order, and on April 13, 2022, the Waterville Lodge's bylaws were officially approved by the Grand Lodge to officially recognize the Elk Riders of Waterville Lodge #905.
Since its inception, the group has grown in membership. At their first meeting, the Elk Riders of Waterville had 23 members, and now that has increased to 32, according to Joe Ritchy, ER and Vice-President of the Elk Riders in Waterville. The hope is to continue growing membership so that the group can do more to help charities and raise awareness of issues that are supported by the Elks and the Maine Elks Association.
Over the past few months, the Elks Riders of Waterville helped escort the Gold Star Wall from Biddeford to the Augusta Elks Lodge. They also participated in the Maine Elks Association Owie Box Motorcycle Ride on July 16th and raised approximately $6,700 dollars to help the Maine Children's Cancer Program support children with cancer and their families.
On October 1, 2022, the Waterville Lodge will hold a ceremony where they will receive their official patch. This ceremony will be conducted by Presidents of Elk Riders groups from out-of-state. The event is expected to take place around 2 PM. Any Exalted Ruler or member who wishes to attend, may do so. It is hoped that every Elk Lodge in the State of Maine will eventually have an Elks Riders group. The more riders, the more money can be raised for charity, and the more rides can be planned for the enjoyment of the members.