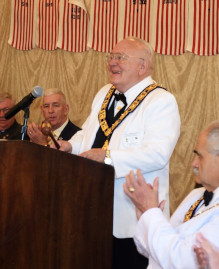 Good morning,
My motto for the year is "HELPING ALL WE CAN…BECAUSE WE SHOULD".
Toward that goal I would like every lodge to apply for all the ENF grants that they are entitled to.  It is FREE money that you can use to BETTER your surrounding community.  In years passed we have left thousands of dollars on the table, so to speak.
My goal this year for ENF is to raise $120,000 dollars. Approximately $44,655 dollars of that amount would come from each lodge raising their $4.80 per capita.
My goal this year for MCCP is $220,000 dollars. I know that some lodges raise a lot for money for MCCP through massive 3-4 days events and for that effort I say "THANK YOU".  With that being said, I know a lot of other lodges don't have that ability for whatever reason. What I'm asking is that ALL lodges try and raise at least $1,000 dollars each. That would add an additional $20,000 dollars over and above what I'm asking.
My officers for the year are:
TILER – David A. Guay PER;
SERGEANT AT ARMS – Vassie Fowler PER, both from the Biddeford-Saco Lodge #1597, and
CHAPLAIN – Alan Heal PER from the Rockland Lodge #1008.
By now all lodges should have their Exalted Ruler and a complete slate of officers including those appointed by your Exalted Ruler.
It is very important that all committees have been formed, they have their elected chairman, and they understand what their duties are and what is expected and required of them.  Also, that they are willing to put forth the time and effort to meet that goal.  Exalted Rulers please replace anyone who is just there to fill the seat and not doing his or her job.
The MEA state meeting schedule is as follows:
The Summer meeting will be in Millinocket on August 7th, 2022
The Fall meeting will be in Farmington on October 2nd, 2022
The Winter meeting will be at Biddeford-Saco on January 8th, 2023
The Spring meeting will be in Portland on March 5th, 2023.
Stephanie and I are looking forward to visiting all our lodges this coming year.  Please see us or Claris Ranger at the end of this meeting to schedule your date. Stephanie has requested that I mention that we are even available mid-week for a visit, like say a First Responders Dinner etc.
We are looking forward to this upcoming year and promise to work hard to help each lodge have a successful year.