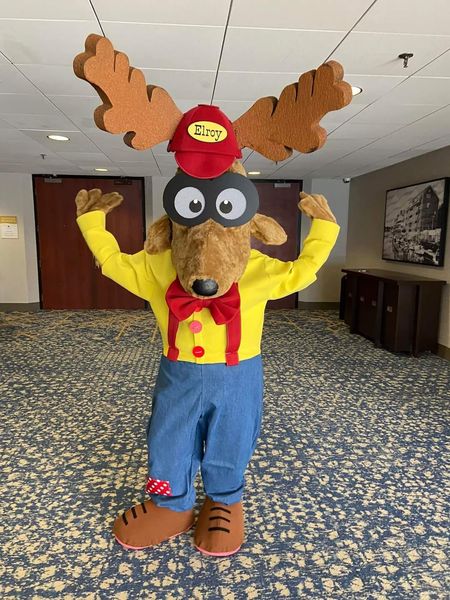 Elroy the Elk, the mascot of the Elks Drug Awareness Program sported a new outfit at the New England Regional Hoop Shoot this past weekend (March 11-13, 2022) in South Portland. Elroy was as friendly as always to those who attended, and his antics were a great stress reliever for the contestants and their families who traveled from all six states in New England for the competition.
Elroy was accompanied by MEA State Drug Awareness Director Anthony Gause, who was on hand to provide other drug awareness promotional items and information to the children and their families who attended.  Elroy and Anthony travel throughout the State of Maine to help deliver drug awareness education as part of the Elks Drug Awareness Program.
Every year, the Elks Drug Awareness Program hands out more than seven million pieces of anti-drug literature to parents, teachers and kids. The Elks believe that the youth of today are the leaders of tomorrow. With that in mind, the Elks Drug Awareness Program reaches out to youth of all ages and backgrounds. Through the 2,100 Lodges in communities across the country, the Elks work to combat youth substance abuse.
While Elroy is a strong champion in the fight against drug abuse, he nonetheless has a big heart, and wants to always remind everyone…especially kids that "Hugs are better than Drugs!"